饲料厂检测化验室规划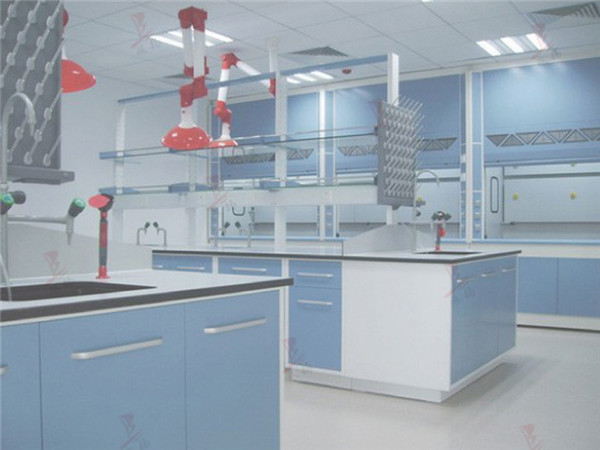 Location selection and indoor layout of feed factory / 饲料厂的位置选择及室内布置
1、Location selection of laboratory / 化验室的位置选择
Small and medium sized laboratories are common for general feed enterprises and they are mainly used for raw materials and product analysis. In the design of the factory, the laboratory area should be reasonably designed according to the needs. Under normal circumstances, the laboratory should be built far away from production workshop and boiler room in order to prevent harmful gas and industrial dust from entering the laboratory, and meanwhile eliminating impact of vibration to analysis and examination.
一般饲料企业建立的多为中小型化验室,主要从事原料和产品的化验分析。在工厂设计时,应根据需要合理的安排化验室的面积。一般情况下,化验室应建在离生产车间、锅炉房较远的地方,以防止有害气体及工业灰尘对化验室的危害,消除生产振动给分析检验带来的影响。
2、Indoor layout of laboratory / 化验室的室内布置
Laboratory room configuration should be determined according to specific circumstances. More laboratory rooms are possible for large feed enterprises and less for small and medium enterprises, but instruments should be placed based on the nature of work, usage, mutual influence,put the equipment be arranged, in order to facilitate management. The larger laboratory can have a physical examination room (for physical examination), laboratory (for routine chemical examination of samples), scale room (for sample weighing), precision instrument room (placed with precision instrument such as colorimeter, pH meter, fluorescence spectrophotometer, etc.), electric heating room (placed with muffle furnace, oven, electric heating plate, constant temperature and humidity box) and sample storage room. Laboratory in small and medium sized enterprises cannot be subdivided due to limited area, but it should at least have an examination room and instrument room.
化验室的房间设置应根据具体情况而定,大型饲料企业化验室房间可以多一些,中小型企业可以少一些,但都应该根据工作的性质、仪器的用途、相互间的影响,分门别类的安放仪器设备,以便于管理。较大的化验室可设置物检室(用于物理检验)、化验室(用于样品的处理机常规化学检测)、天平室(用于样品的称量)、仪器室(放置仪器。如比色计、酸度计、荧光光度计等)、电加热室(放置马弗炉、烘箱、电加热板、恒温恒湿箱等)、样品储藏室;中小企业化验室受建筑面积限制不能细分,但至少要设置检验室、仪器室。
The laboratory floor should be placed with polished tiles, terrazzo tiles or acid-proof ceramic tiles or use peroxide vinyl paint. Walls can brush paint to reduce the absorption of poison and dust. The height of platform top is 850mm and width 750mm. Scale, acidometer, chromometer and fluorophotometer can be placed on the platform.
化验室的地面应为抛光砖或水磨石平面,也可用耐酸瓷砖铺地或过氧乙烯涂料地面。墙面可刷油漆,减少毒物及灰尘的吸附。工作台台面高度为850mm,宽度750mm,可依次放置天平、酸度计、比色计、荧光光度计等。
Experimental platform can be placed in the middle of the examination room with commonly used reagents on the platform. Laboratory water pipe/faucet and sewage pipeline can be arranged so as to get condensate water during crude protein and crude fat test. Washing basin should be prepared on both sides of the experimental platform. Sockets can be installed on the reagent shelf to have a relatively closer power supply.
检验室中间可设置实验台,实验台上装置试剂架放置常用试剂。设置实验室水管及水头、下水管道,以便测定粗蛋白质、粗脂肪等时接冷凝水用。实验台的两侧至少应安装水盆,以便洗涤。试剂架的支架上可安装一些插座,以便蒸馏时有较近的电源。
Ventilation cabinet and electric heating table can be installed on one side of the examination room. The size of the ventilation cabinet can be determined according to the size of room, size 1200/1500/1800 mm, depth 800 mm and height 2350mm. The other side can be arranged according to the rest area of the examination room. If the area is too small, medicine cabinets (keeping commonly used non-hazardous medicine), equipment cabinets and sample cabinets can be placed; if the area is large, instrument, commonly used non-precision instruments such as electric stove and water bath can be placed.
检验室的一侧可安装通风柜及电加热台。通风柜可根据室内的大小设置, 尺寸1200/1500/1800mm 深800mm 高度2350mm , 检验室另一侧可根据检验室余下的面积进行设置,如面积较小,可放置药品柜(储备常用的非危药品)、仪器柜、样品柜等,如面积较大,可布置仪器台,放置常用仪器,如电炉、水浴锅等。
Basic equipment for laboratory in feed factory / 饲料厂化验室常用基础设备
1. Experimental platform 试验台 2. Ventilation cabinet 通风柜 3. Water nozzle / basin 实验水嘴 水盆 4. Experimental instrument cabinet 仪器柜 5. Dishware cabinet 器皿柜 6. Scale platform 天平台 7. Locker 更衣柜 8. Experimental chair 实验椅
General instrument for laboratory in feed factory / 饲料厂化验室常用仪器
Large feed companies can purchase some large instruments according to the needs and conditions. Non-conventional indicators for ordinary enterprises can be examined by Animal Feed Examination Body.
大型饲料企业可以根据需要及条件购置一些大型贵重仪器,一般企业非常规指标可以委托有条件的兽药饲料测试部门检测。
Table balance---500g, 1000g---Drug gross weighing 架盘药物天平---500g、1000g等---药物粗称量
Microbalance-----TG一332A-----microanalysis 微量天平-----TG一332A-----微量分析
Single disc precision scale---DG一100-----Accurate weighing 单盘天平---DG一100-----物品准确称量
Universal electric furnace-----0.5~1KW----Heating 万用电炉-----0.5~1KW----加热
Electric hot plate--------------Processing samples 电热板--------------处理样品
Electric drying oven--101一I, Ⅱ--Reference material and sample drying 电热鼓风干燥箱--101一I型、Ⅱ型--基准物、样品干燥
Sample grinder--XWD-7, sF一170--crushing samples 样品粉碎机--XWD~7型、sF一170型--粉碎样品
Sample splitter ------FYZ continuous----Raw sample mixing 分样器------FYZ连续----原始样品混匀
Filter----- JSYD20-2000mesh---particle size analysis 筛选器-----JSYD20~2000目---粒度分析
Vacuum pump-----2X (30L, 60L) --- vacuuming 真空泵-----2X型(60L、30L)---抽真空
Electric thermostatic water bath – 2/4/6 holes – fat and calcium measurement 电热恒温水浴---二孔、四孔、六孔--测脂肪、钙等
Acidometer-PH25, PHS一2, PHS一3--Determination of acid 酸度计-PH25型、PHS一2型、PHS一3型--测酸等
Spectrophotometer---72, 721, 75l--Determination of acid 分光光度计---72型、721型、75l型--测酸等
Muffle furnace----DRZ一4 Resistance temperature controller--Ashing sample 马弗炉----DRZ一4电阻温度控制器--灰化样品
Biological microscope---Jenaval一1000----microscopical examination 生物显微镜---Jenaval一1000----镜检
Stereomicroscope --------------microscopical examination 体式显微镜--------------镜检
Electric blender---25W or 40W----Solution stirring 电动搅拌器---25W或40W----搅拌溶液
Cryogenic box-----SHl50~60---Low temperature experiment and storage 低温箱-----SHl50~60型---低温实验及储藏
AC voltage stabilizer---614A---Current regulation for precision instruments 电子交流稳压器---614A型---仪器的电流稳压
Photographic microscope---XSS—l, 26~1024 X---microscopical examination 摄影显微镜---XSS—l型、26~1024型X---镜检
Refrigerator------180L, 200L----cold storage 冰箱------180L、200L----冷藏